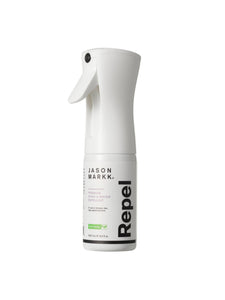 Jason Markk Repel creates a durable, breathable barrier that effectively protects against liquid and dirt. Repel is a water-based formula that is safe to use on absorbent materials including leather, suede, nubuck, canvas, cotton, nylon, knit, woven and mesh. The non-aerosol Repel is VOC-free and does not contain PFOA, PFAS or PFC (forever chemicals).
Not recommended for unsealed leather or vegetable tanned leather. Treats up to 24 pairs of shoes with a single coat.
Directions. Material should be clean and dry prior to application. Hold the bottle upright 6" to 8" from material, prime trigger several times and spray mist evenly covering the entire surface area. Do not oversaturate. Air dry for at least 24 hours. Wear and Take Care! Helpful Tips. Not just effective for shoes, Repel works great on other objects that are made with absorbent materials such as headwear, backpacks and bags! Before exposing to liquid, make sure the material has completely dried.