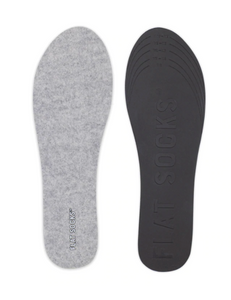 No Slip
The underside is a super grippy textured foam surface. These things seriously don't budge!
Size
Women up to size 13
Men up to size 14
No Stink
FLAT SOCKS create a moisture-wicking barrier that saves your shoes from becoming a stinky swamp!
No Show
While you're out rockin' your FLAT SOCKS, they're your shoe's best-kept secret!
Classy
If you come from a heritage of softer socks and want the same feel as you go sockless, these are your FLAT SOCKS. These Light Heather Grey FLAT SOCKS are the real deal. They feel as good as they look; soft, cozy, cushy, giving a much more natural feel underfoot. Get the feel of a soft wool sock while freeing your feet and going sock-free.
Top Fabric Material:
100% polyester microfiber terrycloth