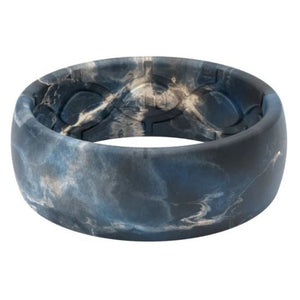 Nomad collection takes tough, outdoor elements and melds them with unique style. Designed for the adventurous wanderer, our Nomad rings are the perfect way to be set apart from the crowd. Featuring Groove's patented, breathable grooves and air-ports, our Nomad rings are the perfect, safe, comfortable alternative to a traditional wedding band. 
Dark, swirling waters, crashing over rocks and forcing a path through a landscape. The Rapids ring symbolizes a force of nature that is unstoppable.
Customized in Tennessee
When you first wear this ring it may feel stiff. No worries. These rings have a break-in-period and will soften after a week of wear.